🌊 Hot Sushi's Happy Surf Camp Aloha! 2017 Season KICKOFF!!!🏄
⚠️See the calendar below for Weekly camp schedules⚠️
🍣Hot Sushi is so STOKED to share his passion to the others in this Green Season once again🌺 
---

BOOK YOUR SURFER OR YOURSELF ONLINE VIA EMAILS, TEXT OR FB MESSAGES PLEASE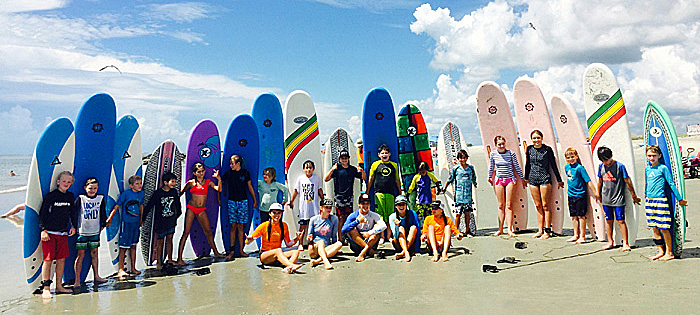 Weekly Camp starts at 10am daily till 1pm in which includes rental gears, instructions and healthy snacks with drinking water everyday.
Please book your surfer in advance to save the spot. (first come first serve basis)
maximum 12 campers for each session healthy snacks and drinking water are provided on camp site daily
Hot Sushi is very really looking forward to surf with you all soon in the near future! for booking, more info, any questions, concerns and such please contact Hot Sushi via emails, FB messages and text messagesbooking for each session will be first come first serve basis.
---
Happy Surf Camp ALOHA 2007 >DAKINE from Shinya Oku on Vimeo.
---
Lesson Fees

| | | | |
| --- | --- | --- | --- |
| Private lesson | : | one on one | $80 |
| Semi-private lesson | : | two on one | $60/per person |
| Group lesson | : | 3-4 people | $50/per person |

All fees includes : Rentals / Surfboards and such

All lessons will be offered for an hour and an hour practice time.

   7% GA sales tax is applicable.
Accepts major credit cards.


Sign up and pay online


☆The Camp schedules may be changed due to our Mother Nature's moods...

☆Please contact/reservation~any concerns and questions to Hot Sushi by E-mails or FB messages!

☆Text messages at 912-604-9527 
Lessons/Camps Waiver
Download PDF


---

Happy Surf Camp Aloha! 2017 season schedules
Camp Week 1 
 
May 22nd 
~
May 26th 
Camp Week 2 
 
May 29st  
~
June 2nd
Camp Week 3 
 
June 5th  
~
June 9th 
Camp Week 4 
 
June 12th 
~
June 16th 
Camp Week 5 
 
June 19th 
~
June 23th 
Camp Week 6 
 
June 26th 
~
June 30th 
Camp Week 7 
 
July 3rd 5th and 7th(4 days a week camp) 
Camp Week 8 
 
July 10th  
~
July 14th 
Camp Week 9 
 
July 17th  
~
July 21st 
Camp Week 10 
 
July 24th 
~
July 28th
Camp Week 11 
 
July 31st 
~
August 4th 
---
*the camp site on 18th Street Beach Access/right by the blue turf on the beach/the swing set/
 see the map on the web.
    
*the morning camp starts at 10:00 am/campers drop off~meet with Hot Sushi at 9:45 am.  
*the morning camp end at 12:45 pm/camper pick up.
*Hot Sushi provides some healthy snacks and drinking water daily/pack your own snacks are optional. 
*the waiver must to be filled before camper goes into the water/you can print it out from the web. 

---
---